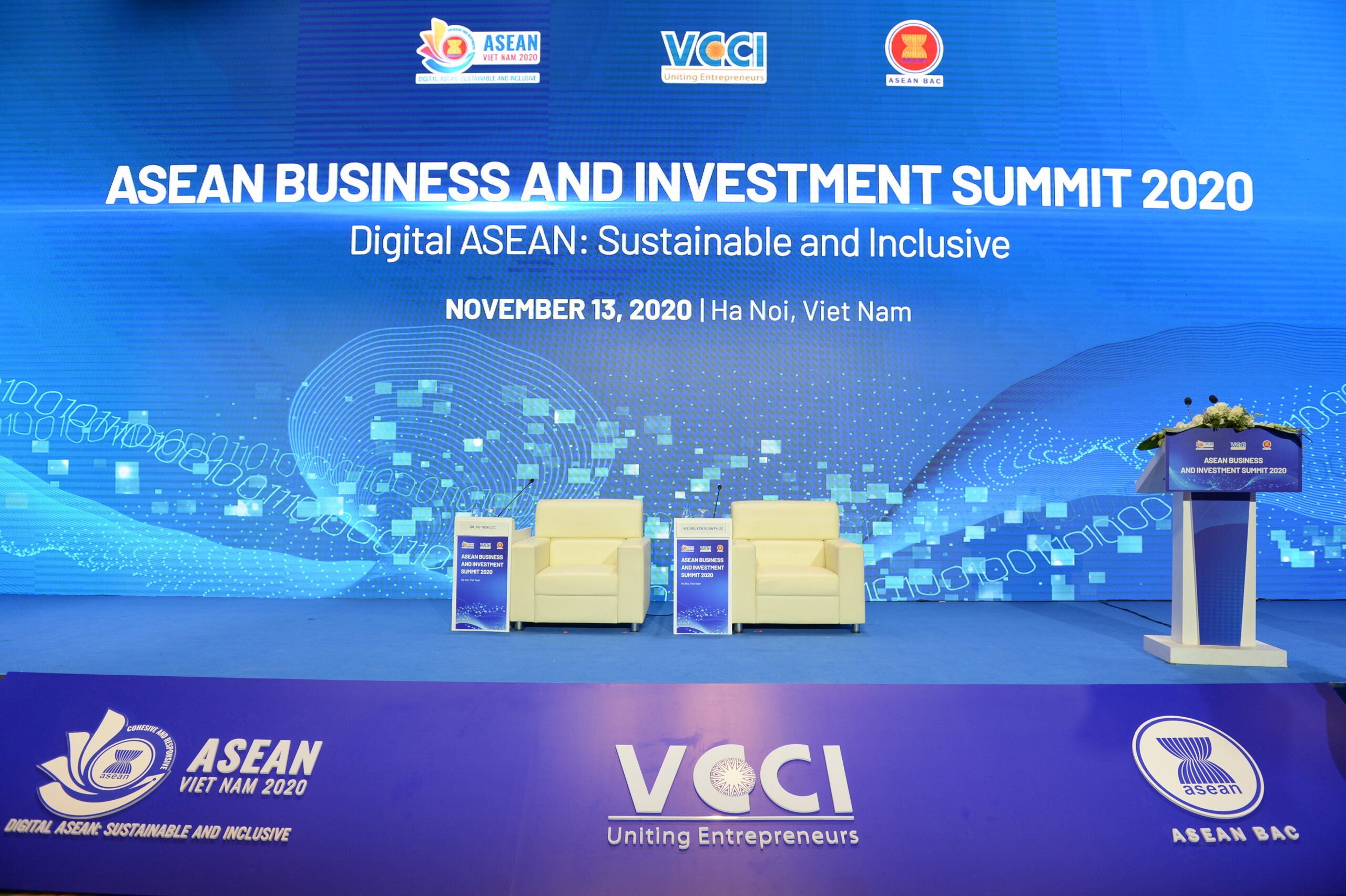 ASEAN Business and Investment Summit (ASEAN-BIS) 2020
ASEAN Business and Investment Summit (ASEAN-BIS) 2020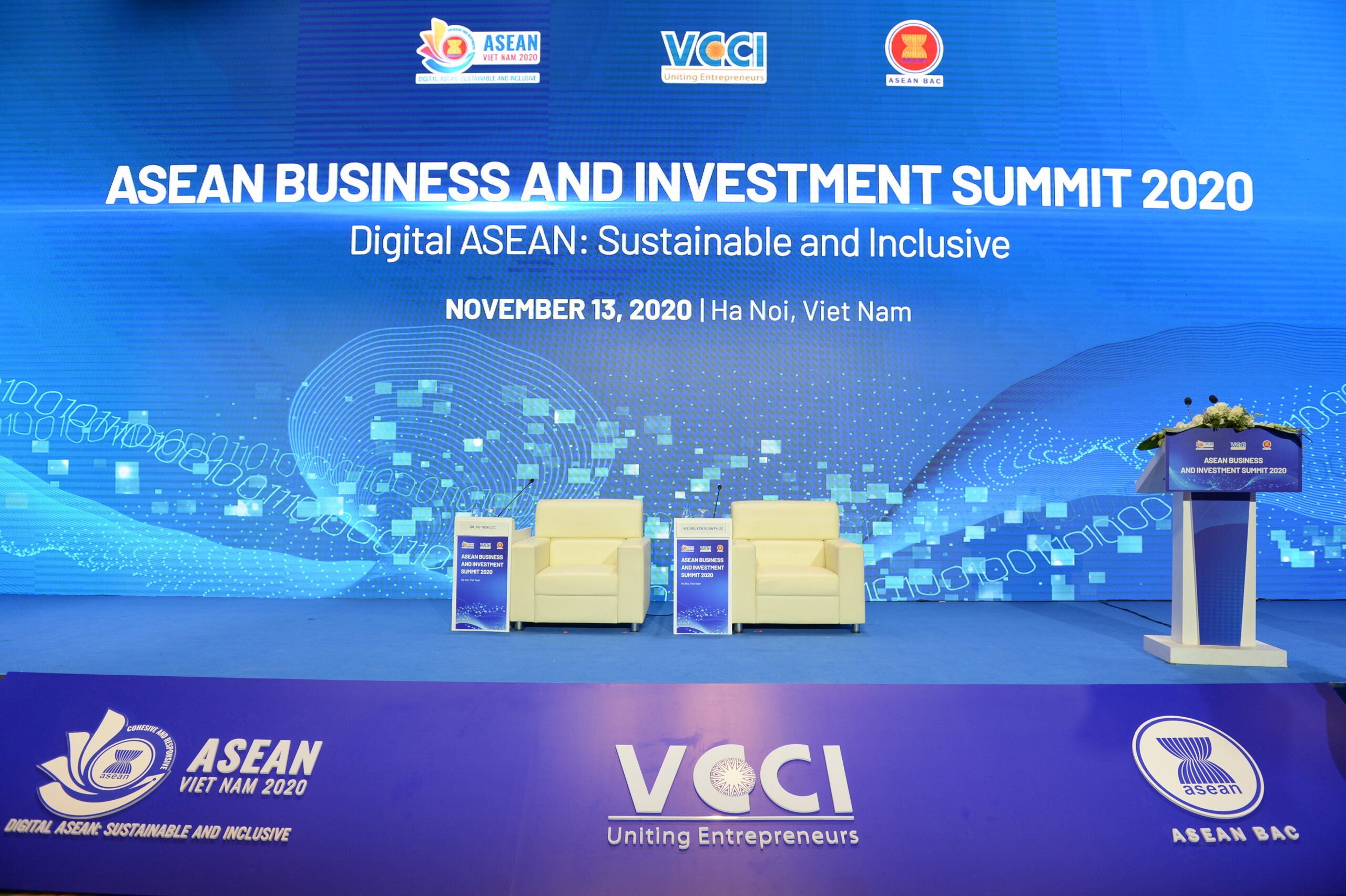 ASEAN Business and Investment Summit (ASEAN-BIS) 2020
ASEAN Business and Investment Summit (ASEAN-BIS) 2020
ASEAN Business and Investment Summit
(ASEAN-BIS) 2020
Hanoi, November 13, 2020, today, in Hanoi, the Vietnam Chamber of Commerce and Industry (VCCI) in corporation with the ASEAN Business Advisory Council (ASEAN BAC) and other related parties has organized the ASEAN Business and Investment Summit 2020 (ASEAN-BIS 2020) with the participation of nearly 2,500 delegates attended offline and online via internet.
With the theme of Digital ASEAN: Sustainable and Inclusive, ASEAN-BIS 2020 focuses on the future of investment and trading in the region. The Summit is honored to welcome 06 Leaders who are Heads of State and Heads of Government of ASEAN countries and ASEAN dialogue partner countries (Prime Minister of the Socialist Republic of Vietnam Nguyen Xuan Phuc, President of the Republic of Indonesia Ir H.Joko Widodo, Prime Minister of Malaysia Tan Sri Muhyiddin Yassin, Prime Minister of Thailand Prayut Chan-o-cha, Prime Minister of the People's Republic of China Li Keqiang, Prime Minister of Australia Scott Morrison) attended and gave important speeches to the business community, giving comment on development trends, introduce Government action plans and commit to accompany the business community in efforts to prevent COVID and recover economic. Also participating as a speaker at this year's ASEAN Business and Investment Summit include President of the EU Council, Secretary-General of OECD, Ministers in charge of Trade of the UK and Myanmar, and Leaders of international organizations, CEOs of leading corporations in the world at group discussion sessions. The summit aims to contribute to further developing multilateral relations, solving existing problems in the region.
The summit took place in a special context, the economy of the region has never faced such serious challenges as it is today due to the outbreak of Covid 19, disasters of floods and landslides. The global economy weakened, production stagnated and many businesses were pushed to the brink of bankruptcy; disruption of global and regional supply chain connetivity and ASEAN-BIS 2020 Summit and the opportunity to re-activate the momentum of growth, trade and investment in the still-evolving Covid-19 pandemic the unpredictatble and the many challenges that the region faces.
The summit discussed many important issues for ASEAN's economic development in the current global trade context including: ASEAN economic outlook; Investment trends ensure environmental factors, social responsibility and good governance (ESG); Technology and employment future in ASEAN; resilient, sustainable and inclusive ASEAN.
Prime Minister of the Socialist Republic of Vietnam Nguyen Xuan Phuc, Chairman of ASEAN 2020 and Chairman of the Vietnam Chamber of Commerce and Industry Vu Tien Loc, President of ASEAN-BIS 2020 opened the summit.
Prime Minister Nguyen Xuan Phuc, Chairman of ASEAN 2020 made an important speech to direct the summit:
"The current Covid-19 pandemic represents an unprecedented challenge for people all over the world as well as for economies of other countries, reducing the economy, hindering world trade, and collapsing supply chains, hindering the movement of people, and causing many businesses to shut down. ASEAN is also not immune from these bad influences. In addition, I regret to say that a number of ASEAN member countries have been subjected to extreme disasters in recent years, consecutive strong storms, floods and severe landslides, causing serious damage to many people, destroy many properties and works, and seriously affect businesses in ASEAN.
But in difficulties, the spirit of a self-reliant ASEAN endeavors to cooperate together in the spirit of "Cohesion and Proactive Adaptation", both effective prevention of Covid-19 pandemic and economic recovery and development, with the overarching goal is to ensure the health and life of the people and at the same time create favorable conditions for enterprises to promote their active and creative role in economic recovery and development.
I believe that this year's ASEAN Business and Investment Summit 2020 will serve as a bridge between Leaders, policy makers, international organizations and leading businesses in the region. The summit will be a place to discuss, share experiences and pratical lessons to open up opportunities for cooperation and development towards sustainable and inclusive development.
Over the past 5 decades of development, ASEAN has become a dynamic, creative economic community with more than 630 million people and a total GDP of 3,100 billion USD (2019), equivalent to the 5th largest economy in the world. This achievement is built on the contributions of the business community from large enterprises to micro, small and medium enterprises, young enterprises, start-ups, and secondary female owners in the region. In which, outstanding is the important contribution of many leading large enterprises to attend the summit today.
Along with effective cooperation mechanisms of the business communities, such as the ASEAN Business Advisory Council (ASEAN BAC), East Asia Business Council (EABC), businesses in the region have worked closely to bring about many important and practical recommendations with many new and innovative ideas to the leaders of ASEAN and ASEAN + 3 in order to transform ASEAN into a bright spot for growth, expand ASEAN links with Northeast Asian countries, adapt to new circumstances, work side by side to overcome difficulties and challenges.
Vietnam, as the Chair of ASEAN 2020, has come up with many initiatives, together with ASEAN member countries and partners to control the Covid-19 pandemic, to implement the Master Recovery Plan, which includes facilitating travelling for experts, managers and investors to ensure the operation of the supply chain, uninterrupted distribution, restored production, jobs creation, workers' income, business difficulties support, etc. According to the IMF's forecast in October 2020, Vietnam is an economy with positive growth, reaching 2-3% in 2020. Vietnam is trying to become a destination for many business i investors in the region and the world for mutual success and cooperation.
Vietnam commits to cooperate with ASEAN member countries and ASEAN's partner countries to continue having practical assistance programs for businesses in the region, especially in the areas of digital transformation; environmental, social and governance (ESG); technology and future employment in the sustainable and inclusive area; working together to achieve a common goal of putting people and businesses at the center of development; at the same time, taking advantage of new opportunities due to the shift in supply chains and global investment towards the ASEAN region."
VCCI President Vu Tien Loc, Chairman of the ASEAN Business and Investment Summit (ASEAN - BIS 2020) gave a welcoming remarks to the summit, emphasizing:
"Covid-19, climate change, trade war, digital transformation, revolution 4.0 and integration, etc. have put humanity before unprecedented challenges and opportunities - opportunities for change and challenges for sustainable development. In the risk of Covid is still raging, most economies in the world and in the region are in recession. This is the global economic and health crisis, so the solution cannot be confined to the borders of each country. The double problem is that repelling pandemics and restoring growth requires coordination between countries, and cooperation between the business communities, people and government agencies. Never before has the cooperation between the Government and the business communities been as urgent as now and public-private partnerships are the formula for us to overcome the crisis. Our ASEAN Business Summit on the theme of a digital - sustainable and inclusive ASEAN is an opportunity for leaders and business communities in the region to discuss the prospects of economies in the coming time, share the orientation of investment in the environmental, social and governance of "ESG", promote technology development with digital technology foundation, as well as take care of people's lives in order to achieve green growth, good governance, sustainable, inclusive and rapid development simultenously so that no one will be left behind.
In addition to joint relief and reconstruction programs, we recommend that Governments focus on measures to support micro, small and medium-sized enterprises (MSMEs) and young and women-owned enterprises, startups, etc. These are the sectors that are most affected by the Covid-19 pandemic but are also home to hundreds of millions of ASEAN citizens and the stars of hope of the digital economy and inclusive models of sustainable development. The necessary support measures for sectors with great potential but experiencing temporary difficulties such as aviation, tourism, hotels, restaurants, etc. should also be implemented immediately, as those are also the potential sectors for post-pandemic boom development.
We also hope that efforts to promote integration and strengthen ASEAN connectivity and dialogue partners will be accelerated even in the context of the pandemic so that ASEAN can play the role of the integration heart of the regional economy. Recently, VCCI and ASEAN BAC have come up with an initiative to set up an ASEAN Entrepreneurship Network to connect to ASEAN's startup community. There is also a specific model to fuel this trend. We look forward to being supported and promoted by leaders and business communities of ASEAN  member countries and dialogue partners. In addition, tomorrow, we will witness the launch of ASEAN Hi-Tech with the project of Logistics Center ICD Vinh Phuc. "
Discussions at the summit agreed that all countries in ASEAN are facing common challenges, so we all need to work together to tackle new challenges, including control the Covid-19 pandemic, rebuild confidence in business and investment, make plans for economic recovery, tackle the region's rapidly growing unemployment and environmental pollution. If the media and press agencies need more information about the contents discussed at the sessions of the conference, please contact VCCI.
The Vietnam Chamber of Commerce and Industry is committed to working with trade promotion organizations around the world to continue organizing support programs for businesses, sharing best practices, exchanging information to strengthen trade, investment and economic growth relations of Vietnam with the ASEAN region as well as with the world.
Vietnam Chamber of Commerce and Industry
Department of International Relations
Number 09 Dao Duy Anh Street, Dong Da District, Hanoi
Phone: +84 24 3574 2022
Website: www.abis2020.vn