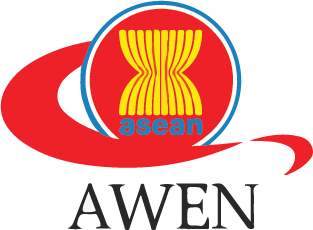 ASEAN Women Entrepreneurs' Network (AWEN)
The ASEAN Women Entrepreneurs' Network ("AWEN") is a regional network of women's organizations or coalitions of women's organizations, representing women in all economic sectors in the ASEAN Member States.
The purposes of the ASEAN Women Entrepreneurs' Network are:
1. To create a regional forum, business matching programs as well as a gathering for product exhibitions for ASEAN women entrepreneurs to share information, knowledge and experience on policies, business environment, investment, and socio – political issues and their impacts on business opportunities;
2. To assist ASEAN women entrepreneurs to improve their business management and skills, such as in communications, leadership and problem solving;
3. To support ASEAN women entrepreneurs to have better access to financial institutions for women in micro-, small-, medium- and large-sized enterprises, science and technology, trainings, market and business opportunities within ASEAN and beyond, and social protection services;
4. To support ASEAN women entrepreneurs who are starting their businesses;
5. To link with other international and regional networks/organizations of women entrepreneurs.
Roles and Functions
The ASEAN Women Entrepreneurs' Network shall:
1. Organize a regular ASEAN forum to share information and experiences in efficient operating business models, national and regional policies and procedures concerning trade, customs and registration of businesses and investments, as well as other issues related to gender and business. ASEAN Member States will take turns in organizing this forum;
2. Provide capacity building for new and existing women owned businesses to embark on their planned projects and learn from well-established businesses within the Network;
3. Study and propose policy recommendations in the region to effectively support women entrepreneurs to develop business activities domestically and regionally; establish a common action programme piloted in one country and replicate the model to others, coordinate with banks/financial institutions to provide support capital for women entrepreneurs to start their businesses;
4. Establish funds for feasible ideas/projects of enterprises owned by women in the region;
5. Develop and maintain the Network's website and issue publications to facilitate communications and information sharing among the Network's members;
6. Organize dialogues between government agencies and other relevant organizations and women entrepreneurs;
7. Organize study tours or exchange visits on business models, management models of a typical business, among others.
AWEN Social Media accounts: